22 September 2023
It's a Good Season to Explore Polygood®Surface Material!
The Good Plastic Company team just got back from Paris Design Week, where we exhibited at the Maison&Objet and Materials&Light events!
At Maison&Objet, we presented a revolutionary and enchanting collection of translucent patterns in partnership with our official distributor Polygood France, showcasing sustainability and innovation in the world of plastics.The Polygood® concept stand offered a captivating visual journey through changing global average temperatures from 1850 to the present day, based on the 'climate stripes' project.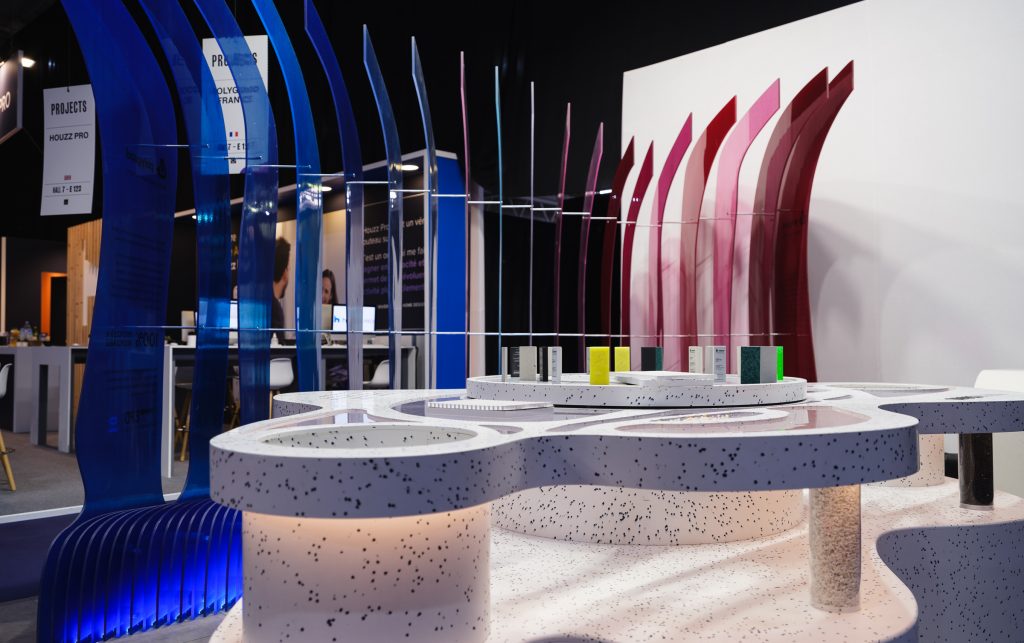 We also had the opportunity to showcase Polygood® at the extraordinary Materials&Light exhibition. This two-day event was held in a relaxed atmosphere, where visitors could explore and become acquainted with new materials while enjoying a glass of champagne!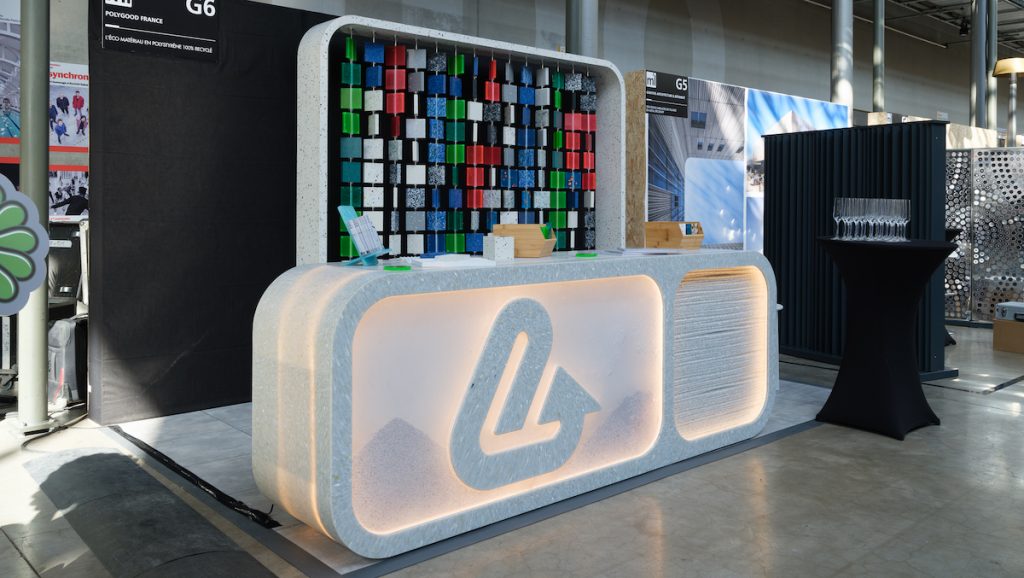 Where is Polygood® heading next?
The Good Plastic Company tour continues. As exhibition season has just begun, we still have many more events and design festivals where you can meet us this autumn! Mark your calendars if you're interested in exploring the enormous potential of our 100% recycled and recyclable surface material, Polygood®!
Area 30 – September 16-21, Löhne, East Westphalia
Polygood®, presented in collaboration with products made by Future+You, a young design agency specialising in trend research, design thinking and product design, can be seen at Area 30, the world's largest kitchen furniture trade fair.
Isola x Material Matters / London Design Festival – September 20-23, London
In partnership with Isola Design, we are delighted to announce our debut at the Material Matters fair, part of London Design Festival. We have prepared something truly exceptional for this event: a delightful bar area on one of the show floors. This area will be made from our 100% recycled and recyclable Polygood® material, brought to life through a collaboration with IAMMI Design Studio and our official distributor in the UK and Ireland, CDUK.
Les Rendez-vous de la Matière – October 10-11, Paris
Polygood® will continue to make waves at Les Rendez-vous de la Matière, a renowned event that brings together professionals from various design disciplines. Once again, we are proud to be a technical partner for the event, actively advancing plastic recycling efforts for the second consecutive year. In line with our commitment, over 90 Polygood® panels featuring the Terrazzo Nuovo pattern will be reused from our participation in last year's exhibition and prominently displayed.
Dutch Design Week – October 21-29, Eindhoven
As one of the largest annual design events in Northern Europe, Dutch Design Week provides the perfect platform for The Good Plastic Company to showcase Polygood's® possibilities. Our Polygood® surfaces can also be found as kitchen worktops created in collaboration with the Makus design studio.
Architect@Work – November 8-9, Milan
For the first time, we are thrilled to announce our participation in Architect@Work Milan, an event that serves as the perfect platform to showcase the remarkable synergy between architectural design and Polygood®.
The Good Plastic Company invites architects, interior designers, and industry professionals to explore the endless possibilities that Polygood® offers for creating unique and sustainable spaces.
Event at Raumprobe – November 22, Stuttgart
Polygood® is teaming up with Germany's largest materials library, Raumprobe, to organise an exclusive event. Architects and designers will come together to immerse themselves in the world of innovative materials. Join us for a day of discovery to discover the future of design and construction.
Dubai Design Week – November 7-12, Dubai
Venture into the world of design in the vibrant city of Dubai, as we proudly announce the official launch of Polygood® distribution in Middle East region. Dubai Design Week will be our first and most prominent event in the region. We invite everyone to come together and explore the untapped potential of Polygood®, uncovering fresh perspectives and innovative breakthroughs.
Throughout Dubai Design Week, our innovative material will take centre stage in the public installation 'Icebergs in the Desert,' thoughtfully made by the renowned design studio Tellurico. This collaboration not only signifies a significant milestone in sustainability but also demonstrates Tellurico's commitment to recycling by reusing over 500 kg of plastic waste, while showcasing a remarkable framework that exemplifies one of the many ways humans can actively reduce our environmental footprint.
We're looking forward to seeing you in the near future! Stay tuned – follow us on Instagram for more!
22 September 2023
We are thrilled to share another significant milestone: our revolutionary 100% recycled plastic material, Polygood®, has been granted a verified Environmental Product Declaration (EPD). This accomplishment underscores our unwavering commitment to sustainability and solidifies our leadership in the industry. An EPD includes the assessment of a product's environmental characteristics throughout its entire lifecycle. Typically, it […]