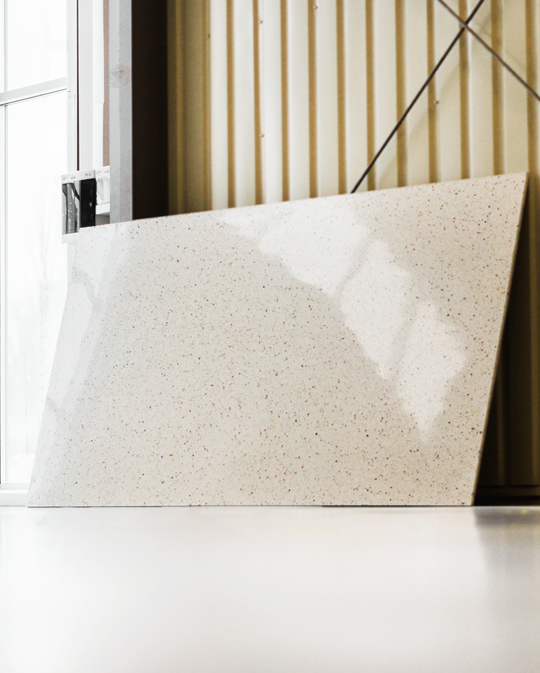 Polygood is available in high volumes and with short lead times. We have the highest production volumes on the market: 100m2 of material per day! Wall panels and shelving, retail counters and displays, signage and storage: each department store, hotel reception zone or office space can give new life to up to 5-10 tonnes of 100% recycled plastic.
The panels we produce are the largest available on the market (2800x1400mm) and can weigh around 100kg, depending on thickness.
Our two current factories in Ukraine and the Netherlands are able to produce up to 1,000 tonnes of 100% recycled panels per year, meeting industrial-scale demand. We obtain our raw materials from a variety of sources including single-use cutlery, packaging, household electronics, and ocean plastic.
Sizes: 1000x1000mm for prototyping and sampling and 2800x1400mm for implementations
Standard thicknesses: 12mm and 19mm (up to ±1mm tolerance depending on production location)
Finishes: matte (standard; gloss on request)
Stiffness: high
Scratch resistance: medium (improvable with coatings)
Moisture absorption: none
Composition: PS
All panels are single-faced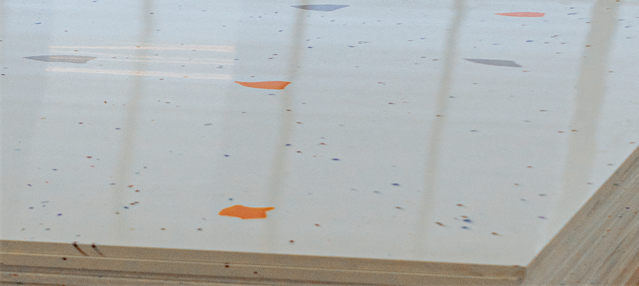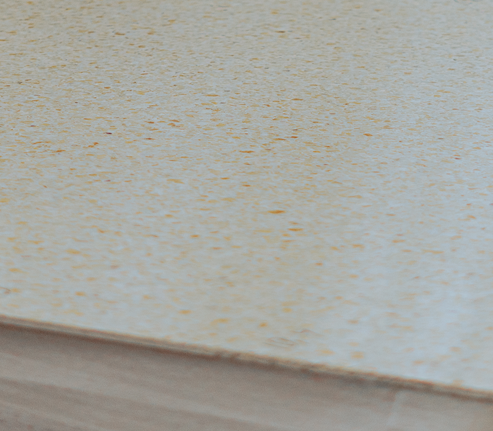 As The Good Plastic Company manufactures panels solely from 100% recycled plastics, some colour variance between batches is possible. As the sources of waste change over time, so colour pigment consistency can also vary. We therefore have little control over batch colours. Plastic granules that appear identical to the human eye can turn out to have minor colour differences when they are melted into a panel. As a result, for black patterns shades may vary from deep black to matte ashy black, and for white patterns shades may range from a bleached/snow white to a mottled effect comprising off-white and milky white shades. This results from the origin of the material – household refrigerators – and reflects differences in the whiteness of the original appliances before recycling.
We recommend that you aim to place orders for individual projects in one batch and discuss colour options and requirements with a sales manager.
The surface and interior of our panels may also have small holes and marks. This is a feature of using recycled source material and is outside our control, but talk to a sales manager if you would like to understand what types of plastic and patterns are less susceptible. Surface treatments such as coatings can help to ensure a more consistent finish.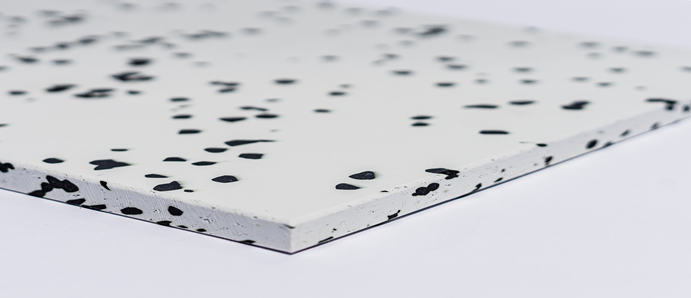 1.
Waterproof and rot-proof. Chemical resistant.
2.
The material can be machined, drilled, cut (by CNC, woodworking sawblades, router and waterjet).
3.
The surface can be sanded and polished to achieve any finish from matte to a mirror gloss.
4.
Panels can be thermormed to create distinctive shapes for your designs.
5.
The material is easily joined with glue, screws or specialist fixings.
For more details, see our Frequently Asked Questions page, or contact us to request our full Material Handling & Workability Guide.