22 October 2020
The Student Hotel, Delft
We are delighted to share with you this incredible project made in collaboration with The Invisible Party and Fiction Factory for The Student Hotel – three companies working together united by a single brand value of sustainability. More than 100 bespoke Good Plastic sheets from recycled plastic waste were used to create this environmentally conscious, innovative and distinctive hotel interior and furniture. The bespoke pattern is a modern twist on Delft's famous blue and white pottery designs.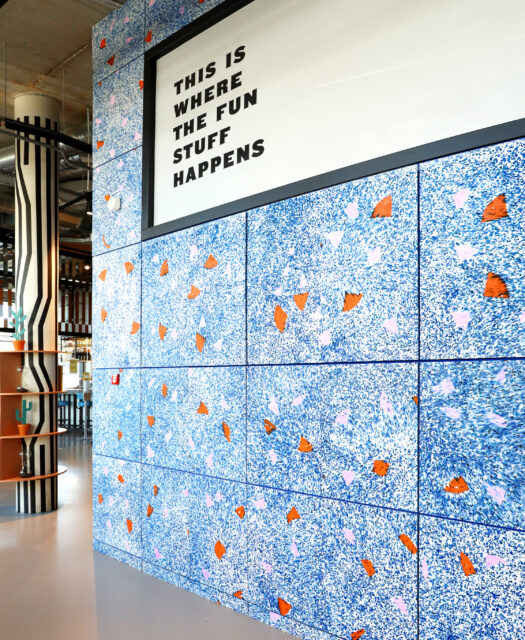 The TSH Delft experience starts upon entering the large open lobby, this is the heart of the hotel, the place where you can meet people, relax and where events can also be organized in post-COVID times. What immediately stands out are the colorful plastic panels, made from, among other things, used refrigerators and disposable cutlery. Nice-to-know: the plastic can be completely recycled. The furniture has been developed in a circular manner, all screws and bolts can be easily removed and ready for recycling.
We are immensely proud to be part of this sustainable concept. Hotels with an eco-conscious, circular philosophy are our future. Younger generations make increasingly conscious choices in consuming goods and services. Staying in a hotel that contributes to the circular economy and that uses using locally supplied goods in its interior design embodies values that are shared by the modern people who will be its honoured guests. A new way of travelling, and a new way of making an impact!
10 November 2020
In a unique collaboration of IEGAR and The Good Plastic Company, we have realized a beautiful pannafield – our first outdoor project. The circular panna cage with water buffer made from locally recycled plastic made from old refrigerators and spools. This circular object is located in Primary school De Klepper, Luyksgestel. This is a great […]